The key topic of the meeting was the discussion on the preparation of "Public Health Protection Systems and Process Continuity Planning" for effective work under any unforeseen circumstances or natural disasters.
The main objective of the discussion was to initiate a strategic dialogue between key regional as well as national stakeholders from the countries of the EECA region regarding health services and business continuity planning.
The participants of the seminar were representatives of international, regional and national organizations, in particular: the main recipients of the Global Fund, from the countries of the region, representatives of the ministries of health and other state bodies, regional networks of communities of Eastern Europe and Central Asia, international organizations, donors and partners of the project # SoS 2.0.
The main discussions of the seminar focused on the following issues: how the region is dealing with pandemics and war-related challenges, priority actions/solutions for the EECA region and beyond, defining technical assistance, moderated discussion of next steps with FPM.
The participants of the event discussed many crisis incidents that significantly affect the continuity of HIV-related services. Real cases and examples of solving difficult situations were also considered.
Representatives of international donor organizations emphasized the importance of coordinating efforts and developing effective crisis response plans.
Great discussion. Infinite gratitude to partners and colleagues for these fruitful and productive days.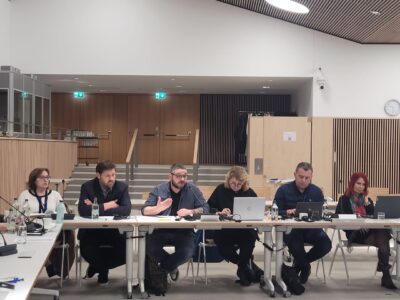 As a result of the discussion, the importance and necessity of coordinating the efforts of the #SoS 2.0 project team with the WHO in the formation of unified approaches to help the countries of the region in the formation of effective standards for the actions of health care institutions, civil society organizations, etc. was determined. stakeholders within the countries during the period of unpredictable events, such as the covid-19 pandemic, war, etc.
Further steps include an in-depth discussion of the national context and necessary actions in the Balkans at the end of March and a separate workshop for Central Asia in Q2 2023.
Special thanks to colleagues for the coordination and organization of the event, which took place under the leadership of the IBAHUB team with the support of the Global Fund secretariat.